Hello everybody! Now that I am back to Spain I'm starting to feel like spring is here and summer will be soon! You know it's spring when you stop using all your dark colours and start using pastels and bright colours on your nails. I am a sucker for pastels, I love anything pastel and nails polishes are no exception. Here you have my favourite nail polishes for spring!
Essence Colour&Go in 115 Redvolution // All Intense Core Beauty in 026 Abbey Road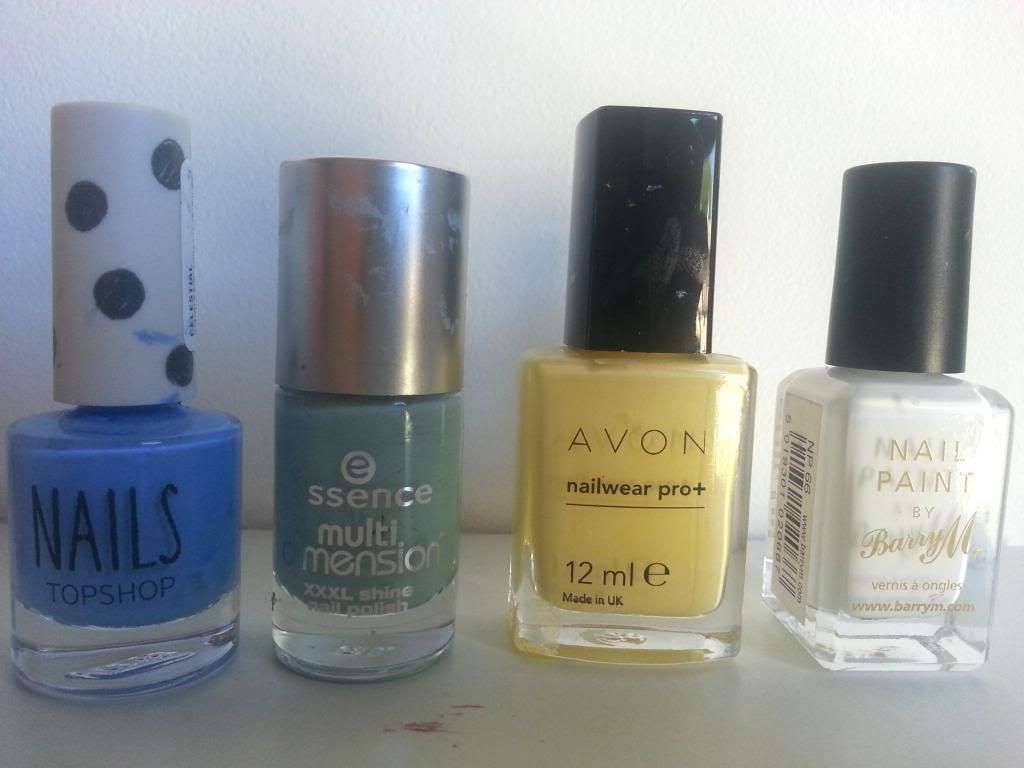 Topshop in Celestial// Essence multi dimension XXXL shine in 73 Replay// Avon in lemon sugar // Barry M in 66 Matt White
The first one is the classic red but more summery, I wouldn't say it's coral but it's similar, it's an orangey red. The only problem with it is that it only stays on for about two days which kind of sucks.
The next one is a colour I would've never bought because I don't usually like orange but my mom bought it for me and I love it now. It looks so nice on and it reminds me of the sun which makes me excited for summer.
This Topshop nail polish is my all time favourite, it's such a pretty colour! I bought it almost two years ago and I've used it so often I'm surprised I still have some. It's almost empty though, but I'll definitely be repurchasing it!
The next one is a mint shade which is very very similar to Essie's Candy Apple but for a much cheaper price. This one is quite old so they don't sell it anymore but I wish they did!
The next one is a pastel yellow which looks lovely when you've got a nice tan.
Last but not least we have my most recent purchase. A white nail polish. This is a must-have for everyone as it looks nice on its own but you can also use it as a base and do some nail art on top of it!
These are my favourite nail polishes for spring and summer, which are yours?