Hello there! Liquid eyeliner is my favourite thing in the whole world, I love how precise it is and how rich the colour can be. However, I can only use the felt tip ones as if I use a brush things can go very very wrong. What I've found after using these 'sharpies' (as I like to call them) for a rather long time is that they tend to dry out quite quickly. They normally don't last more than a couple of months. A few weeks ago, a I bought the Master Precise liquied eyeliner by Maybelline that everybody seemed to love. As always, I got it int he darkest colour I could fins, 'Black/ Noir'.
What made me buy it is how fine and long the tips is, I hate when they are too short as I find it much more difficult to apply. Also, after swatching it in the store I saw it was actually black black, not black blue-ish or black grey-ish.
I have to say I am not very good at eyeliner and the fact that ever since I got this baby I have drawn the perfect line every single day says a lot about how easy it is to apply. Plus, one coat is more than enough, it is so black you can't make it any darker by using any more product. Awesome, right?
As you can see on the picture Maybelline's is the darkest one out of them all. But I have to say Collection's is pretty good as well, and quite cheaper.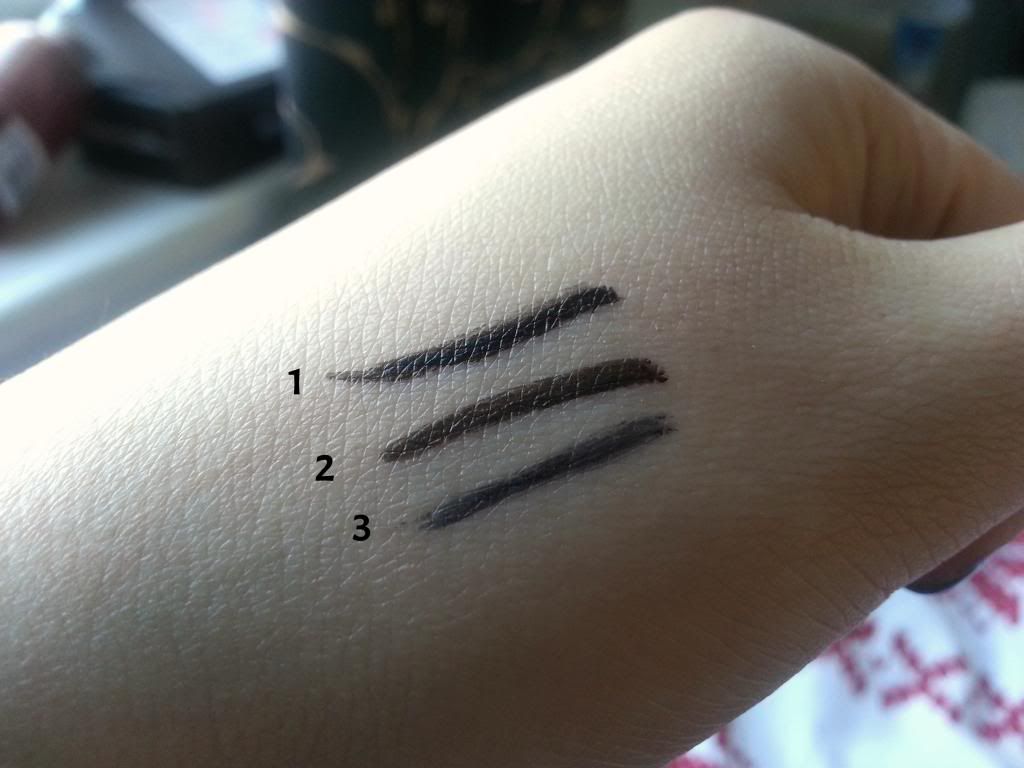 1. Maybelline's Master Precise 2. Collection's Extreme Felt Tip Liner 3. Essence's Stays On No Matter What
I also like that it stays on all day. I normally apply it at 8am and at 8pm it is still on and in it's place which is beyond amazing!
However, it smudges quite easily if you touch your eyes or something, which is quite sad as otherwise it would have been the perfect eyeliner!
Do you use liquid eyeliner very often? Which one is your favourite?